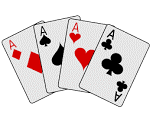 It's Canasta Time!
If you are interested in joining a fun group that loves to play five deck Canasta, contact Jeani Penn.
March
Canasta will be on March 15th at Jeani Penn's.
Please let her know or sign up at the luncheons. Jeani will circulate a sign-up sheet, or you can register to play on this web site by clicking here.